To ensure that you see the newsletter in its entirety, please click on the "view entire message" button at the bottom of this email.
MESSAGE FROM PRINCIPAL DIANNE CARTER

Happy Thursday, WRMS Families!!!
I hope you have all had a great week back after Spring Break! As much as I loved having a week off, it's good to be back and see everyone's smiling faces. The spring is always a great combo of crazy, fun and exciting. There are quite a few information items this week, so I will refrain from saying more here and now.
Here we go with information items:

National Junior Honor Society! If you have a 7th grader you should have already received this, but just in case...The National Junior Honor Society application window will be open Tuesday, March 23rd @ 8am to Friday, April 2nd @ 4pm. The application can be accessed through the NJHS website. For more information on NJHS please attend our Zoom Interest Meeting on Wednesday at 5:00 PM. Here is the Zoom information:
Future City Engineers at Nationals! Just a quick reminder that our WRMS Future City Engineering team is competing at the National Finals event! One award category is called "People's Choice" and they would be honored to win that award for our school! Please consider voting for the WRMS kids, and please consider inviting your network of people to vote for them, too! Here's the link for you to vote:
IPC (Integrated Physics and Chemistry) Reminder for 7th grade Parents! Just a reminder that if your 7th grade Wildcat is interested in taking IPC next year, the deadline to register for the test to place in is April 16th. CLICK HERE for more detailed information in case you lost/missed the email.
Yearbooks!!! Pre-order your yearbook! There are only a few weeks left to preorder a yearbook. There are only about 100 copies left, and when they are gone, they are gone! Reserve one for your student HERE!
STAAR Heads up - Yes, according to TEA, we will have the STAAR test this spring. All students are welcome (including remote) to come to campus to take the test on testing days. If you have a 7th grader that is remote, then you have already received an email requesting that you let us know if your 7th grade remote Wildcat will be coming to take the writing test on 4/6. This same request will be sent out for each test so that we can plan accordingly. Here are the dates that we know so far:

April 6th - 7th grade writing (all 7th graders)

May 11th - All grade levels of Math

Algebra students will take EOC

Geometry and Algebra 2 students will take their grade level STAAR

May 12th - All grade levels of Reading

April 1st Early Release Bell Schedule - HERE it is! It's all classes (shortened) with a grab and go lunch right at the end of the day.
That was quite a bit, and I still feel like I'm missing something. If I did, we'll get it to you! I hope you all have an amazing weekend consisting of some rest and relaxation. We're on the downhill slope of this crazy year, and again...we will survive - together.
Enjoy!
Dianne Carter
Feliz Jueves, familias de WRMS!!!
¡Espero que hayan tenido una gran semana después de las vacaciones de primavera! Por mucho que me encantara tener una semana libre, es bueno volver y ver las caras sonrientes de todos. La primavera es siempre una gran combinación de locura, diversión y emoción. Hay bastantes elementos de información esta semana, así que me abstendré de decir más aquí y ahora.
Aquí vamos con elementos de información:
Sociedad Nacional de Honor Juvenil! Si tiene un estudiante de 7mo grado, ya debería haber recibido esto, pero por si acaso ... La ventana de solicitud de la Sociedad Nacional de Honor Juvenil estará abierta desde el martes 23 de marzo a las 8 am hasta el viernes 2 de abril a las 4 pm. Se puede acceder a la aplicación a través del sitio web de NJHS. Para obtener más información sobre NJHS, asista a nuestra reunión de interés de Zoom el miércoles a las 5:00 p.m. Aquí está la información de Zoom:
¡Futuros ingenieros de la ciudad en los Nacionales! ¡Solo un recordatorio rápido de que nuestro equipo de ingeniería de WRMS Future City está compitiendo en el evento de las Finales Nacionales! ¡Una categoría de premios se llama "Elección de la gente" y se sentirían honrados de ganar ese premio para nuestra escuela! ¡Considere votar por los niños de WRMS, y considere invitar a su red de personas a votar por ellos también! Aquí está el enlace para que vote:
¡Recordatorio de IPC (Física y Química Integradas) para los padres de 7º grado! Solo un recordatorio de que si su gato montés de séptimo grado está interesado en tomar IPC el próximo año, la fecha límite para inscribirse en el examen es el 16 de abril. HAGA CLIC AQUÍ para obtener información más detallada en caso de que haya perdido el correo electrónico.
Anuarios !!! ¡Reserva tu anuario! Solo quedan unas pocas semanas para reservar un anuario. Solo quedan unas 100 copias, y cuando se acaban, ¡se acaban! ¡Reserve uno para su estudiante AQUÍ!
Atención STAAR - Sí, según TEA, tendremos la prueba STAAR esta primavera. Todos los estudiantes son bienvenidos (incluidos los remotos) a venir al campus para tomar el examen los días de exámenes. Si tiene un alumno de séptimo grado que está a distancia, entonces ya ha recibido un correo electrónico solicitando que nos informe si su Wildcat remoto de séptimo grado vendrá a tomar el examen de escritura el 4/6. Esta misma solicitud se enviará para cada prueba para que podamos planificar en consecuencia. Estas son las fechas que conocemos hasta ahora:

Escritura del 6 de abril al 7 ° grado (todos los estudiantes de 7 ° grado)

11 de mayo - Todos los niveles de grado de Matemáticas

Los estudiantes de álgebra tomarán EOC

Los estudiantes de Geometría y Álgebra 2 tomarán su nivel de grado STAAR

12 de mayo - Todos los niveles de grado de lectura

Horario de la campana de salida anticipada del 1 de abril - ¡AQUÍ está! Son todas las clases (abreviadas) con un almuerzo para llevar justo al final del día.
Eso fue bastante, y todavía siento que me estoy perdiendo algo. Si lo hice, ¡te lo enviaremos! Espero que todos tengan un fin de semana increíble que consista en un poco de descanso y relajación. Estamos en la pendiente cuesta abajo de este año loco, y de nuevo ... sobreviviremos, juntos.
¡Disfrutar!

Dianne Carter
Good news.....WE HAVE GONE PAPERLESS this school year!! All doctor/excuse/early release notes should be emailed to

wrmsattendance@eanesisd.net .

Please do not send paper notes in with your student.

Please make sure that your student has a Smart Tag if they ride the bus or need to buy any food from the cafeteria. If your student does not have one and needs to get one, please have them see the front office to do so.
If you haven't already, check out the Wildcat Club website for more information and a calendar listing all upcoming Wildcat Club events.
WRMS 2021 – 22 WILDCAT CLUB BOARD & COMMITTEE CHAIRS NEEDED
WRMS Wildcat Club is looking for volunteers to help make the 2021-22 school year a fantastic year. We have opportunities for you to help all throughout the school year.
Please consider signing up for open board and committee chair positions!
It takes a village to make great events happen and we appreciate every single minute you can offer!
Sign up today at www.wildcatboosterclub.org
WRMS 2021 6th GRADE MEDIEVAL FEST CANCELLATION
WRMS Wildcat Club is so saddened that we had to cancel this year's 6th Grade Medieval Fest.
If you would like your student's Medieval Fest Fee returned to you, please contact
Lila Brolsma at wrmstreasurer@wildcatboosterclub.org
WRMS T-SHIRT DESIGN COMPETITION
WRMS Wildcat Club is calling all creative WRMS Students to help us commemorate how we have risen up to the challenges of this past school year.
You can submit your design via this Google Form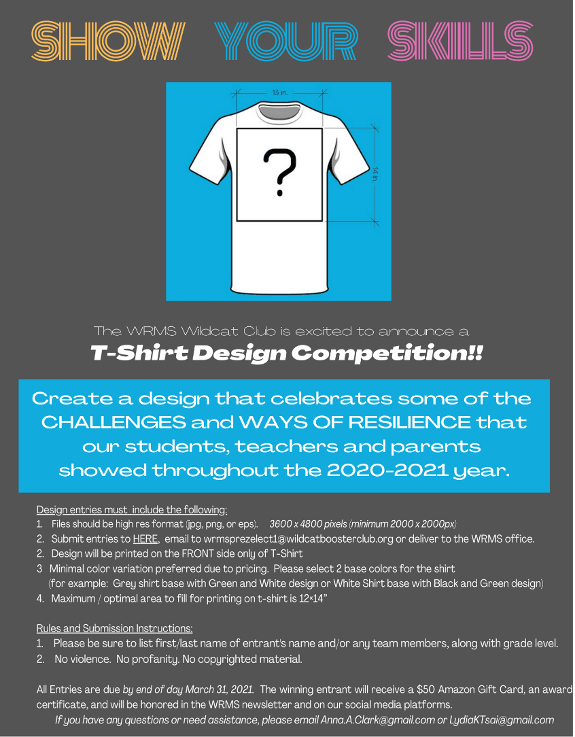 UPCOMING EVENTS
Can you believe we are on the downhill slope of the school year?
Here are the WCC events for the remainder of the school year:
April 21st: National Administrative Assistant Day
April 26 – 30th: Staff Appreciation Week
May 1st: National School Principal Day
May 7th: National School Lunch Hero Day
May 12th: National School Nurses Day
May 14th: Final 2020-21 WCC General Meeting
May 25th: End of the Year Cookout/ Food Trucks
EISD Board Candidate Forum
The WRMS, HCMS and WHS Booster Clubs are working on putting together an EISD Board Candidate Forum. The date and time are TBD.
If you would like to submit questions for these candidates, please submit them on this google form: https://tinyurl.com/CandidateForumQuestions
Questions need to be submitted by March 30th.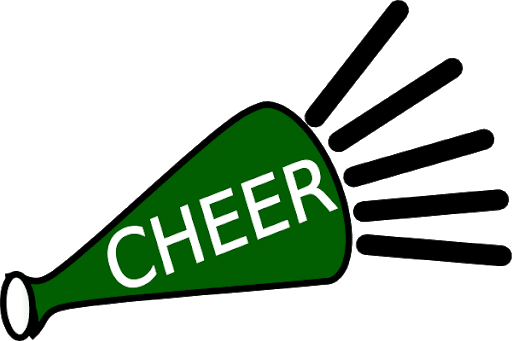 Attention all families interested in WRMS cheer for the 2021-22 school year, there will be an informational meeting over Zoom on April 20th at 6:30 PM. Please see Ms. Morreale's website for more information. The Zoom link will be published the day of the meeting on the WRMS Cheer website.
The Enginuity Series includes an incredible array of experiences for middle school aged girls! This program is generously funded by The National Academy of Engineering and DiscoverE, so this experience is completely cost-free. From speakers from across the country to live Q&A sessions, this program offers an amazing opportunity to explore the world of engineering in a modern and exciting context! Every week there is a new speaker and engineering challenge! Learn about different career paths, cool engineering concepts, and much more! Tune in for GIVEAWAYS every session! I invite you to participate and earn a certificate of completion for the Enginuity Series.
FAQ Sheet (English):
https://docs.google.com/document/d/1agc5Ln2m9TQTY9FiR8wXn1BUG4Z6SiapEeIhNex4-nU/edit?usp=sharing
Registration Link: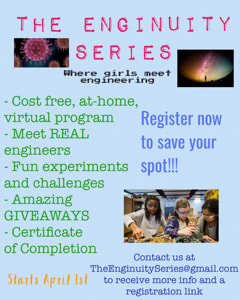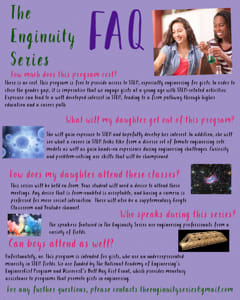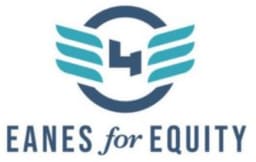 March 30, 6:00 PM - 7:30 PM. Eanes for Equity welcomes a diverse panel of Texas-based faith leaders to discuss faith's role in building inclusion and its intersection with equity in our communities. Presented by Eanes for Equity. Register today!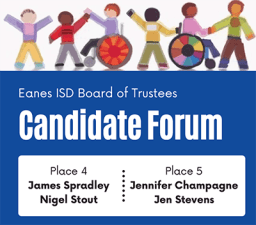 Sunday, April 11th, 5PM - 6PM, via Zoom. Please submit questions for the candidates by Friday, April 2. Hosted by the Special Education Parent Working Group.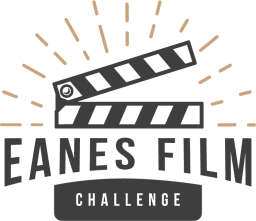 The Eanes Film Challenge provides K-12 students an opportunity to create a short film. Students are encouraged to apply their creativity and utilize district iPads to create a 60-second short film from one of the three challenges. Visit the website linked in the title for more information.
Mar 25 2021
WRMS Academic UIL Virtual Contest
All day
Mar 25 2021
WRMS Tennis Practice
4:30 PM - 6:00 PM
Mar 25 2021
WRMS Soccer Girls/Boys vs Hill Country
5:00 PM - 7:30 PM