MESSAGE FROM PRINCIPAL DIANNE CARTER

Happy Thursday, WRMS Families!!!

I hope you have all been enjoying the weather change this week! Everything is so green!!! We have had a pretty awesome week this week. I have LOVED getting to see a few of our Wildcats!!! Seriously, our kids are amazing. I know that masks are frustrating and not comfortable, and NOT hugging or high fiving, etc. is hard, but they are doing an incredible job. I have been amazed by your kids and our teachers. I was able to pop into a few classes here and there. While I don't think anyone would suggest that this is normal, I do think our teachers are managing to do some amazing things. I can't wait to go learn about some of our 7th grade science projects tomorrow! The most significant moment for me so far this week was walking to my car yesterday. Many parents were lined up to pick up their athletes after practice. There were smiles, waves and thanks expressed. It was just one of those moments where I literally said out loud, "We really are all in this together." It warmed my heart and gave me joy. Thank you.
Now for a few information items:
Checking in on our kids - Our counselors have sent a wellness survey out to our kids to check in on them to see how they are doing! Just in case your Wildcat missed it, you can share this with them so they can CLICK HERE to access the survey to complete. We really do look at this data and use it to inform a variety of things. Our counselors use it to work with individual students and/or craft counseling lessons. Our whole leadership team uses the information to help inform decisions where appropriate. And...we really just want to know how they are doing!!!
Mathcounts! Are you interested in solving challenging math problems? Does competing in prestigious math tournaments appeal to you? If so, the West Ridge MATHCOUNTS club is for you. This club is a place to learn advanced math topics and creative problem solving. The club is open for 6th,7th and 8th graders. We will meet remotely on Tuesdays at 4:20 pm in Mrs. Karandikar's zoom room. The first meeting is on September 22nd. Please contact Mrs. Karandikar or visit http://mathcountswrms.weebly.com/ for more information.
Attendance Fun - The way that teachers take attendance and the way things are coded this year, with some students in person and some remote, is challenging. TEA has changed quite a bit in this arena. Here are a few tidbits of information that will help ALL of us understand and streamline the process:
Where are we these days? Let me try to concisely be sure you all know where things are with our madness called COVID land. As of today:

All students who chose in person on the second survey back in August will have the opportunity to begin in person learning on 9/21.

Those who chose remote back in August will stay remote at least until 10/19.

Prior to the end of the first 9-weeks (10/13), families will be given an opportunity to choose between remote or in person for the second 9-weeks. The respective choice on that survey will go into effect on 10/19.

We plan to send an email tomorrow evening to all families clearly stating whether records from the August survey indicate in person or remote so that we are all clear on where in the world to be on Monday 9/21!
That is all for now, Wildcat families! My fingers are tired, and it is time for dinner. :-) I hope you are all able to make the most of some NON-100 degree weather this weekend. Get some rest, breathe, hug those you love… And...remember...we're all in this together!

Enjoy!
Dianne Carter
Feliz jueves, familias de WRMS !!!

¡Espero que todos hayan disfrutado del cambio de clima esta semana! ¡¡¡Todo es tan verde !!! Hemos tenido una semana increíble esta semana. ¡¡¡ME ENCANTÓ ver algunos de nuestros Wildcats !!! En serio, nuestros hijos son increíbles. Sé que las máscaras son frustrantes y no cómodas, y NO abrazar o chocar los cinco, etc. es difícil, pero están haciendo un trabajo increíble. Me han sorprendido sus hijos y nuestros profesores. Pude entrar en algunas clases aquí y allá. Si bien no creo que nadie sugiera que esto sea normal, sí creo que nuestros profesores están logrando hacer cosas increíbles. ¡No puedo esperar para aprender sobre algunos de nuestros proyectos de ciencias de séptimo grado mañana! El momento más significativo para mí en lo que va de semana fue caminar hacia mi auto ayer. Muchos padres hicieron fila para recoger a sus atletas después de la práctica. Hubo sonrisas, saludos y agradecimientos. Fue solo uno de esos momentos en los que literalmente dije en voz alta: "Realmente estamos todos juntos en esto". Me calentó el corazón y me dio alegría. Gracias.
Ahora, para algunos elementos de información:
Controlando a nuestros niños - ¡Nuestros consejeros han enviado una encuesta de bienestar a nuestros niños para ver cómo están! En caso de que su Wildcat se lo haya perdido, puede compartir esto con ellos para que puedan HACER CLIC AQUÍ para acceder a la encuesta y completarla. Realmente miramos estos datos y los usamos para informar una variedad de cosas. Nuestros consejeros lo usan para trabajar con estudiantes individuales y / o lecciones de orientación artesanal. Todo nuestro equipo de liderazgo utiliza la información para ayudar a informar las decisiones cuando sea apropiado. Y ... ¡¡¡realmente solo queremos saber cómo están !!!

Mathcounts! ¿Está interesado en resolver problemas matemáticos desafiantes? ¿Le atrae competir en prestigiosos torneos de matemáticas? Si es así, el club MATHCOUNTS de West Ridge es para ti. Este club es un lugar para aprender temas avanzados de matemáticas y resolución creativa de problemas. El club está abierto para estudiantes de sexto, séptimo y octavo grado. Nos reuniremos de forma remota los martes a las 4:20 pm en la sala de zoom de la Sra. Karandikar. La primera reunión es el 22 de septiembre. Comuníquese con la Sra. Karandikar o visite http://mathcountswrms.weebly.com/ para obtener más información.

Diversión de la asistencia: la forma en que los maestros toman la asistencia y la forma en que se codifican las cosas este año, con algunos estudiantes en persona y otros a distancia, es un desafío. TEA ha cambiado bastante en este campo. Aquí hay algunos fragmentos de información que nos ayudarán a TODOS a comprender y agilizar el proceso:

De acuerdo con las reglas de la TEA, los estudiantes en persona que no están en el campus se cuentan como ausentes incluso si se acercan a la clase. A los estudiantes no se les permite estar en persona un día y a distancia al siguiente. Para la documentación, los padres deben enviar un correo electrónico a wrmsattendance@eanesisd.net si los estudiantes están ausentes de la escuela en persona o remota. Los estudiantes pueden enviar un correo electrónico a los maestros sobre su ausencia, pero para que sea "oficial", la nota debe provenir de los padres. Si un estudiante cambia al aprendizaje remoto debido a un aislamiento, hay un código especial que ingresa la escuela.

NUEVO PROCEDIMIENTO DE ASISTENCIA: ¡Nos hemos quedado sin papel! Si va a recoger a su hijo, envíe un correo electrónico a wrmsattendance@eanesisd.net (también aparece en nuestra página web). Asegúrese de incluir el nombre y apellido de su hijo y la hora a la que lo recogerá. ¡Cuando llegues te los enviaremos! También asegúrese de enviar la nota de su médico por correo electrónico, ya que no estamos usando papel. ¡Bienvenido al futuro!

Apuesto a que esto es tan claro como el barro ...

¿Dónde estamos estos días? Permítanme tratar de asegurarme de manera concisa que todos saben dónde están las cosas con nuestra locura llamada tierra COVID. A partir de hoy:

Todos los estudiantes que eligieron en persona en la segunda encuesta en agosto tendrán la oportunidad de comenzar el aprendizaje en persona el 21 de septiembre.

Aquellos que eligieron el control remoto en agosto permanecerán remotos al menos hasta el 19/10.

Antes del final de las primeras 9 semanas (13/10), las familias tendrán la oportunidad de elegir entre remoto o en persona durante las segundas 9 semanas. La elección respectiva en esa encuesta entrará en vigor el 19/10.

Planeamos enviar un correo electrónico mañana por la noche a todas las familias indicando claramente si los registros de la encuesta de agosto indican en persona o en forma remota para que todos sepamos en qué lugar del mundo estar el lunes 21 de septiembre.
¡Eso es todo por ahora, familias Wildcat! Mis dedos están cansados y es hora de cenar. :-) Espero que todos puedan aprovechar al máximo un clima NO-100 grados este fin de semana. Descansa un poco, respira, abraza a tus seres queridos ... Y ... recuerda ... ¡estamos todos juntos en esto!

¡Disfrutar!

Dianne Carter
PE & Athletic (Non-Football) Uniforms – PICK UP
Thursday, Sept. 10th 5pm – 6:30pm (Rain or Shine)
WRMS Fine Arts Parking Lot
(if raining – we will be under the porch by the front doors)
Pre-Orders: Pick up your pre-ordered uniforms in the student drop off line.
To Purchase: Pull into the parking lot to purchase. We will come to you!
PLEASE DO NOT LEAVE your cars – this will help us streamline the process.
Payment Methods: CREDIT CARDS & CHECKS ONLY! NO Cash!
Make Checks payable to WRMS Booster Club
Pricing: PE Uniforms: $10 per item (shirt & shorts) or $20 for a set
Athletic Uniforms: Dri-Fit Shirt is $25 and Dri-Fit Shorts are $30 or $55 for a set
WILDCAT CLUB GENERAL MEETING
Friday, September 18, 2019 at 9:00am
Dr. Kristi Sailors, Director of Ed. Tech. & Digital Learning
Via ZOOM
https://eanesisd.zoom.us/j/96752455833
Join us for our first Wildcat Club Meeting!
We are so excited that Dr. Kristi Sailors will be joining us as our first guest speaker of the school year. Dr. Sailors has been instrumental in helping create our current online learning platform for the district.
We can't wait to hear what she has to share with us!
We will also have board member introductions and give a review of our budget for the year.
This is sure to be informative and insightful, and it is also a great way to get involved!
W.I.L.D. FUND FUNRAISER
A HUGE Thank you to those who have already given to the WRMS W.I.L.D. Fund No-Hassle Fundraiser.
As of now, 14% of our WRMS families have participated.
We work directly with the principal, staff and parents to identify and address
needs at West Ridge.
We strive to use EVERY dollar of your donation effectively and responsibly to
keep our school exemplary!
Our goal is 100% participation– Remember, no gift is too small!
Please join us to help support the students and staff of WRMS. We can do it!!!
Ready to donate?? You can do so online by logging in at: WildcatBoosterClub.org
Check out this video to learn more about how your dollars help when you donate to the Wildcat Club!!
WRMS ATHLETIC FUND SPIRIT SIGNS
Show your support for our athletes, coaches and WRMS Community by donating to the
WRMS Wildcat Club Athletic Fund!

Spirit Signs are available with a $250 initial donation and then a $100 annual renewal
The signs are 2' x 3' and are hung in the main gym walls above the bleachers.
Log on to WildcatBoosterClub.org
· Select Store Tab
· Select your child's grade level Essential Sales Form
· Select New Spirit Sign
(If have a current sign in the gym – you will select Gym Spirit Sign Renewal)
· Checkout
Order deadline is Sept. 23, 2020
NOTE: Donations to the WRMS Athletic Fund are used to purchase athletic equipment and supplies needed for the student athletes in ALL WRMS athletic sports.
Questions? Contact Jaynie Degnan at jayniedegnan@gmail.com or at (425) 306-1596
Good afternoon WRMS families,
This month the counselors are focusing on stress management and coping.
September 10th is World Suicide Prevention Day and we are sending students a presentation about the importance of having a trusted adult in their life. A trusted adult is someone that students can talk to when they or someone they know is struggling emotionally. We are asking students to take a moment to think about who those trusted adults are in their lives. Although we would love it if it were always a parent sometimes a trusted adult might be another guardian, a teacher, a school nurse, bus driver, your school counselor or private therapist, a relative, a doctor, a religious leader, or a friend's parent.

We want students to know that there are hotlines (24/7) they can call or text to communicate with adults who are certified to help people who are struggling. Here is a hand out of numbers to call (students were provided this in Google Classrooms).
Encouraging students to reach out to adults when they need help is one way to encourage and promote mental and emotional health!
We are always here to help!
Sincerely,

The WRMS Counseling Team
Jamie Delgado (6th grade): jdelgado@eanesisd.net
Christy Catalano (7th grade): ccatalano@eanesisd.net
Kiran Avasthi (8th grade): kavasthi@eanesisd.net
Mental Health Emergency Numbers:

In the event of a mental health emergency, please do not email. Instead, contact the following sources immediately:
In the event of a medical emergency, please do not email. Instead, contact the following sources immediately: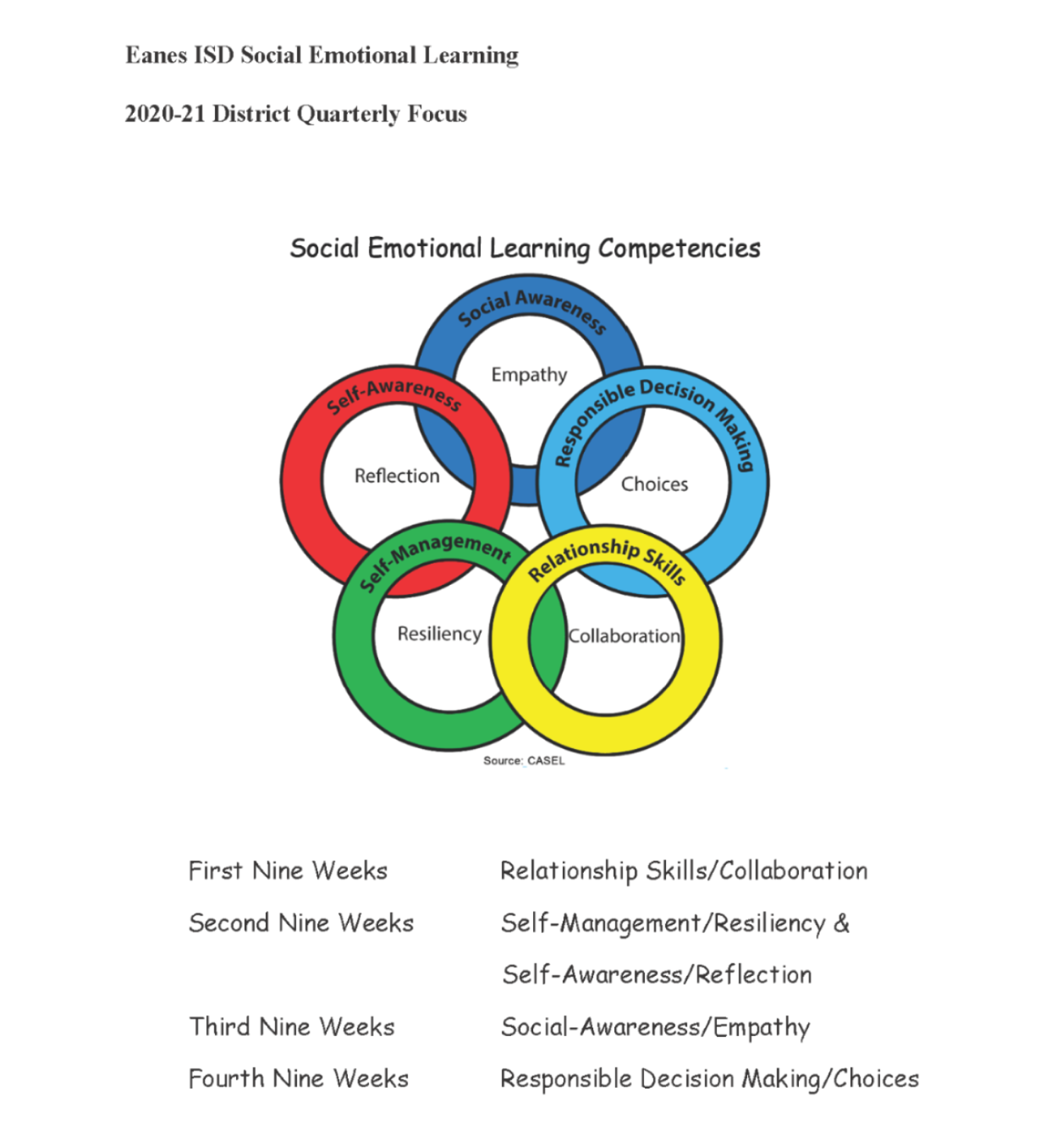 Eanes ISD is looking for members to apply to be a part of its newly formed Diversity, Equity, Inclusion (DEI) Advisory Committee. The online application opens Sept. 1st and closes at 5PM Sept. 21st.
Welcome to the 2020-21 school year! Even though the start of this school year is unlike any we have had before, we begin like we always have by fostering, modeling, and teaching relationship skills. This teaching happens in the classroom, whether remote or in person, as well as in the home. As we navigate uncharted territory for the start of the 2020-21 school year, teaching relationship skills and connecting with family members, friends, and teachers may be more important now than ever before.
Thursday - September 10, 2020
12:00 AM - 11:59 PM
Friday - September 11, 2020
12:00 AM - 11:59 PM
Friday - September 18, 2020
All day