MESSAGE FROM PRINCIPAL DIANNE CARTER

Happy Thursday, WRMS Families!!!

It has been a great week to be a Wildcat! I did manage to physically pop into a few classes this week to be the person waving in the background of the teacher! Each visit was brief and still refreshing. I loved seeing some of our kids' faces! I also got to enjoy a bit of poetry, some music, a few tours and lots of smiles. I am so impressed with how hard our teachers are working to create experiences for your kids. I am also impressed by your kids. It really does take all of us! I also truly appreciate you all as parents. Many of you have physically helped with things like prepping for athletic uniform pick up or putting up awesome signs. Even more of you have helped by sharing your words of support and appreciation with our teachers. Thank you. They sooooo deserve it!!! Keep it headed their way, because I know they appreciate it. Also, please continue to realize that our teachers continue to constantly learn a ton as they navigate this craziness. Thank you for your appreciation and patience.
Now for a few information items:
SMART tags - Locate your Wildcat's SMART tag!!! It will be even more important this year than in the past for both the bus AND lunch! If your Wildcat is new to Eanes ISD, don't worry! We already have one for them in the office. If you have looked everywhere and cannot find it, please complete THIS FORM. We will work on a new one.
WHS NHS Tutoring! Check out information from our WHS National Honor Society about tutoring by clicking HERE.
In Person on Tuesday - If your Wildcat met the criteria to be a part of the first 25% to come to WRMS in person on September 8th, you have received an email and confirmed your desire. Everyone else will remain remote for now. We will have 228 Wildcats here on Tuesday! I appreciate everyone's patience as we constantly work to adjust to an ever-changing world of demands. To get more information about what things will look like, please CLICK HERE for a presentation that will explain a LOT. It includes information about: Self Screening, What to Bring, Masks, Arrival/Dismissal, Hallways/Passing Periods, Restrooms, Classrooms, Lunch Time, Health/Nurse Information, PE/Athletics, No New Instruction Days and Office Procedures This is the presentation used during our webinar at 6:30 this evening. A recording of that webinar will also be posted soon.
I will stop there. The presentation covers the main things that I thought you all would be hoping to learn. I hope you all have time to rest this long weekend in a safe environment. Hug the ones you love and laugh together as much as you can.

Enjoy!
Dianne Carter
Feliz jueves, familias de WRMS !!!

¡Ha sido una gran semana para ser un gato montés! ¡Me las arreglé para aparecer físicamente en algunas clases esta semana para ser la persona que saluda en el fondo del maestro! Cada visita fue breve y aún refrescante. ¡Me encantó ver las caras de algunos de nuestros hijos! También pude disfrutar un poco de poesía, algo de música, algunas giras y muchas sonrisas. Estoy muy impresionado con lo duro que están trabajando nuestros maestros para crear experiencias para sus hijos. También me impresionan sus hijos. ¡Realmente nos necesita a todos! También los aprecio mucho a todos ustedes como padres. Muchos de ustedes han ayudado físicamente con cosas como prepararse para recoger el uniforme deportivo. Muchos de ustedes han ayudado compartiendo sus palabras de apoyo y agradecimiento con nuestros maestros. Gracias. ¡Se lo merecen muuuuuuuuuuuu! Mantenlo en su camino, porque sé que lo aprecian. Además, continúe dándose cuenta de que nuestros maestros también están constantemente aprendiendo mucho mientras navegan por esta locura. Gracias por su agradecimiento y paciencia.
Ahora, para algunos elementos de información:
Etiquetas SMART: busque la etiqueta SMART de su Wildcat. ¡Será aún más importante este año que en el pasado tanto para el autobús como para el almuerzo! Si su Wildcat es nuevo en Eanes ISD, ¡no se preocupe! Ya tenemos uno para ellos en la oficina. Si ha buscado en todas partes y no puede encontrarlo, complete ESTE FORMULARIO. Trabajaremos en uno nuevo.
Tutoría de WHS NHS! Consulte la información de nuestra Sociedad Nacional de Honor de WHS sobre tutoría haciendo clic AQUÍ.
En persona el martes: si su Wildcat cumplió con los criterios para ser parte del primer 25% para venir a WRMS en persona el 8 de septiembre, ha recibido un correo electrónico y ha confirmado su deseo. Todos los demás permanecerán remotos por ahora. ¡Tendremos 228 Wildcats aquí el martes! Agradezco la paciencia de todos mientras trabajamos constantemente para adaptarnos a un mundo de demandas en constante cambio. Para obtener más información sobre cómo se verán las cosas, HAGA CLIC AQUÍ para ver una presentación que explicará MUCHO. Incluye información sobre: autoevaluación, qué llevar, máscaras, llegada / salida, pasillos / períodos de paso, baños, aulas, hora del almuerzo, información sobre la salud / enfermeras, educación física / atletismo, días sin nuevas instrucciones y procedimientos de oficina.Esta es la presentación utilizado durante nuestro seminario web a las 6:30 esta noche. Pronto también se publicará una grabación de ese seminario web.
Me detendré ahí. La presentación cubre las cosas principales que pensé que todos esperaban aprender. Espero que todos tengan tiempo para descansar este fin de semana largo en un ambiente seguro. Abrace a sus seres queridos y ríase juntos tanto como pueda.

¡Disfrutar!

Dianne Carter
PE & Athletic (Non-Football) Uniforms – PICK UP
Thursday, Sept. 10th 5pm – 6:30pm
WRMS Fine Arts Parking Lot
Pre-Orders: Pick up your pre-ordered uniforms in the student drop off line.
To Purchase: Pull into the parking lot to purchase. We will come to you!
PLEASE DO NOT LEAVE your cars – this will help us streamline the process.
Payment Methods: CREDIT CARDS & CHECKS ONLY! NO Cash!
Make Checks payable to WRMS Booster Club
Pricing: PE Uniforms: $10 per item (shirt & shorts) or $20 for a set
Athletic Uniforms: Dri-Fit Shirt is $25 and Dri-Fit Shorts are $30 or $55 for a set
WILDCAT CLUB GENERAL MEETING
Friday, September 18, 2019 at 9:00am
Dr. Kristi Sailors, Director of Ed. Tech. & Digital Learning
Via ZOOM
https://eanesisd.zoom.us/j/96752455833
Join us for our first Wildcat Club Meeting!
We are so excited that Dr. Kristi Sailors will be joining us as our first guest speaker of the school year. Dr. Sailors has been instrumental in helping create our current online learning platform for the district.
We can't wait to hear what she has to share with us!
We will also have board member introductions and give a review of our budget for the year.
This is sure to be informative and insightful, and it is also a great way to get involved!
W.I.L.D. Fund (aka NO HASSLE FUNDRAISER)
A HUGE Thank you to those who have already given to the WRMS W.I.L.D. Fund No-Hassle Fundraiser.
As of now, 13% of our WRMS families have participated.
We work directly with the principal, staff and parents to identify and address
needs at West Ridge.
We strive to use EVERY dollar of your donation effectively and responsibly to
keep our school exemplary!
Our goal is 100% participation– Remember, no gift is too small!
Please join us to help support the students and staff of WRMS. We can do it!!!
Ready to donate?? You can do so online by logging in at: WildcatBoosterClub.org
ATHLETICS SPIRIT WEAR GEAR SALES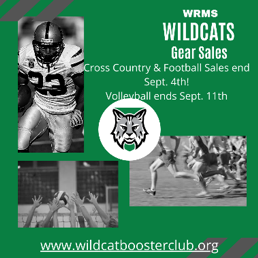 CAMPUS FEE REMINDER
The $25 WRMS Campus Fee helps fund school expenses including printer costs, copy paper,
classroom teaching supplies, tissues, etc.
Without this, the WRMS campus budget doesn't cover these costs.
You can easily pay on
Thank you for all your support!
Hello Westridge Families,

September is National Suicide Prevention Month. In recognition of the importance of this month, the counselors at WRMS are sending wellness lessons weekly to students during Wildcat Time. These mini-lessons include topics on Trusted Adults, Stress Management, Self Care, and Growth Mindset and Positive Affirmations.

Check the weekly newsletter for the posted lessons to further explore these topics with your child.

If you or someone you know needs to talk to someone, reach out to one of the following hotlines:

Thank you,