MESSAGE FROM PRINCIPAL DIANNE CARTER

Happy Thursday, WRMS Families!!!

I hope you and your Wildcats are starting to get in a bit of a groove when it comes to your daily schedule. Just as a reminder...that takes a while in a normal year, so it's completely normal if it's taking a little longer this year! If you, your child or someone you know is starting to freak out a little, help them take a deep breath and simply ask for help if they are still struggling. We will all get there together! :-) Now for the moment of joy… I just realized that I have failed to pop into any classes this week due to lots of meetings and data crunching. That's no excuse, but just the reality. Therefore, I am committed to pop into some classes tomorrow to feed my soul! So...where else have I experienced moments of joy? Emails, phone calls and zooms with various people where the conversation has been centered around figuring out how to make the best of things and expressing appreciation for everyone's hard work have been my source of joy this week. I am constantly amazed as I watch different people continue to step up in ways that I don't even think they realized they had in them. Between our teachers, EPs, custodians, other support staff, counselors, administrators, district staff, parents and most importantly our kids, we've totally got this. Laughing our way through making the best of it!!!
Now for a few information items:
Attendance - Just a reminder that attendance is taken every period, every day. Here's a message from our fabulous attendance folks: Even with remote learning we still take attendance for school funding. If your child is absent from class please send an email to wrmsattendance@eanesisd.net (also listed on our school website) Please be sure to include the student's full name and the reason for the absence. Please follow up with a doctor note if your child goes to the doctor. Thank you!
DEI Advisory Committee Application - If you were listening in on the board meeting last night, you probably heard this, but I wanted to share… Please keep an eye out for a communication from the district with an opportunity to be a part of this Advisory group if you are interested. You can start really watching for this around September 1st. I know that there will be great care to include diverse voices with diverse experiences.
What we know at this point - I figure it might be nice to summarize what we know at this point along the way in one place, so here you go:

100% of students are learning remotely through September 4th.

As of this moment, 25% of students selected through the publicized prioritization will begin in person learning on September 8th.

We will continue to work together as a community to determine the next steps beyond that.
I am confident that we have all learned a great deal about ourselves and others as we have worked together to navigate the realities of our COVID-19 circumstances both in our "normal" lives and in our "school" lives. Thank you for your patience and grace as we have all made adjustments and sacrifices. I really do appreciate the positivity and flexibility many have demonstrated. Keep the positive notes headed to our teachers! I know they appreciate them! They are on the front lines of making the best of this! I will stop rambling now. I hope you all get to rest this weekend and spend time with loved ones AWAY from school and work. Remember… We're all in this together!!! Thank you for believing in this!!!

Enjoy!
Dianne Carter
WILDCAT CLUB GENERAL MEETING
Friday, September 18, 2019 at 9:00am
Dr. Kristi Sailors, Director of Ed. Tech. & Digital Learning
Via ZOOM
https://eanesisd.zoom.us/j/96752455833
Join us for our first Wildcat Club Meeting!
We are so excited that Dr. Kristi Sailors will be joining us as our first guest speaker of the school year. Dr. Sailors has been instrumental in helping create our current online learning platform for the district.
We can't wait to hear what she has to share with us!
We will also have board member introductions and give a review of our budget for the year.
This is sure to be informative and insightful, and it is also a great way to get involved!
W.I.L.D. Fund (aka NO HASSLE FUNDRAISER)
A HUGE Thank you to those who have already given to the WRMS W.I.L.D. Fund No-Hassle Fundraiser.
As of now, 10% of our WRMS families have participated.
We work directly with the principal, staff and parents to identify and address
needs at West Ridge.
We strive to use EVERY dollar of your donation effectively and responsibly to
keep our school exemplary!
Our goal is 100% participation– Remember, no gift is too small!
Please join us to help support the students and staff of WRMS. We can do it!!!
Ready to donate?? You can do so online by logging in at: WildcatBoosterClub.org
ATHLETIC SPIRIT WEAR GEAR SALES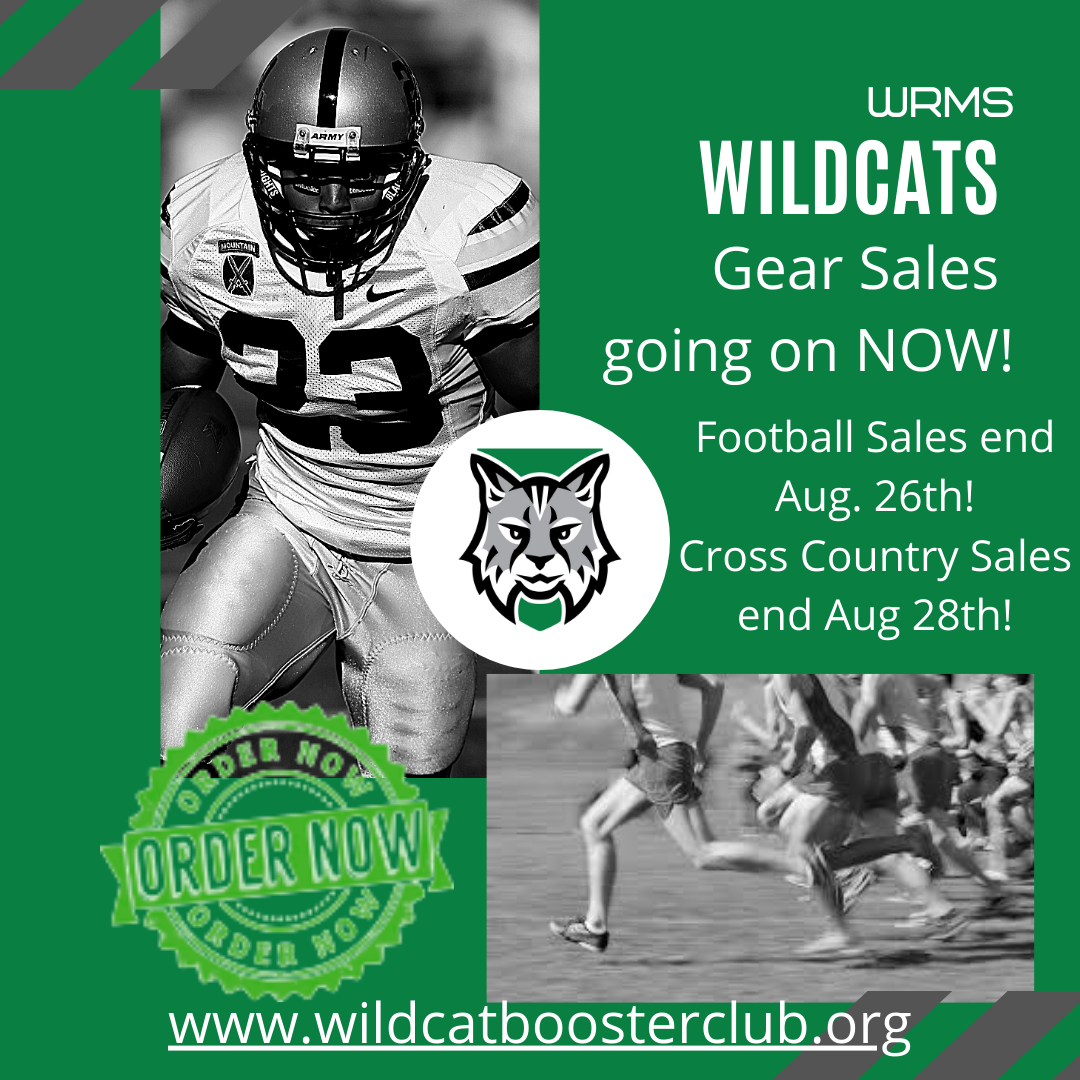 WELCOME BACK TO SCHOOL Wildcat Meeting
Wildcat Club General Meeting
September 18, 2020 at 9:00am
Via Zoom (Watch for instructions to join!)
We will have board member introductions and give a brief overview of the role Wildcat Club plays in our school, as well as discuss potential plans for allocating our funds in the coming school year. This is sure to be informative and insightful, and a great way to get involved!
CAMPUS FEE REMINDER
The $25 WRMS Campus Fee helps fund school expenses including printer costs, copy paper,
classroom teaching supplies, tissues, etc.
Without this, the WRMS campus budget doesn't cover these costs.
You can easily pay on
Thank you for all your support!
Wednesday - September 2, 2020
4:30 PM - 7:00 PM
Thursday - September 3, 2020
4:30 PM - 7:00 PM