MESSAGE FROM PRINCIPAL DIANNE CARTER

Happy Thursday, WRMS Families!!!
I hope you have all had a great week! Once again, I have enjoyed spending time in several classes over the last week checking things out. I always like to talk about the cool things happening in class to try and give you a little glimpse into what your kids get to experience. However, I have to admit that the thing that stood out to me the most this week was our kids' behavior in the hallways. I have to brag on them in general. I have consistently received more, "Hi, Ms. Carter" comments as we pass in the hall this year than ever before. It's not just that. I have been impressed by how many of our kids will simply have a quick little conversation with an adult (me or whomever) walking down the hall. It happens enough that it stands out in a very good way. I appreciate that they are good little (some not so little) humans. I consider myself so lucky on a daily basis.
Now for a couple of information items:
WHS Speaker Series - I am guessing that I may not be alone when I say that I learn something every day about being a good parent. Even though I am immersed in the world of education each day, many things are very different and very challenging when it comes to raising a young person in our current world. We are lucky that our district provides a series of opportunities for us to learn as parents! Check out the Speaker Series at THIS LINK.
Pick-up Traffic– First, thank you for not blocking the box! Second, many of you are parking/stopping along the road that goes up by the practice field (connects us to BCE). If you do, please be considerate of the fact that this is a through street and be sure you are not blocking the flow of traffic. Thank you for keeping our Wildcats safe!!!
I believe that is all for this week. I'm looking forward to our dance tomorrow evening! I hope you are all able to have a relaxing weekend possibly including some time watching either football or US Open tennis. Maybe you now have a clue what I plan to do… :-)
Enjoy!

Dianne Carter
PICTURE DAY IS FRIDAY, SEPTEMBER 13TH!!
An order form will be sent home with your child next week.
***Reminder***
Our initiative this month is for everyone to participate in the "With Love to WRMS" for the school's front display case. Please take a moment to write your favorite person (teacher/staff/student) or a class you love at West Ridge and we can showcase these expressions of gratitude for all to see! You can find blank postcards and pens near the display case area and then drop your "message of gratitude" into the mailbox for us.
*** WILDCAT NIGHT OUT ***
Make sure your students know about our Fall Dance next Friday, September 6, from 6:30-8:30 pm in the gym. We will have a DJ, photo booth, and games. This is our kick-off event that also serves as a fundraiser for our Booster Club that supports our teachers and campus projects. Tickets are $10 and are available for purchase during lunch on Friday September 6th AND at the door. Concessions are available for purchase during the event. If you have any questions, feel free to contact Emily Wright, emilyw@whpc.org for more information.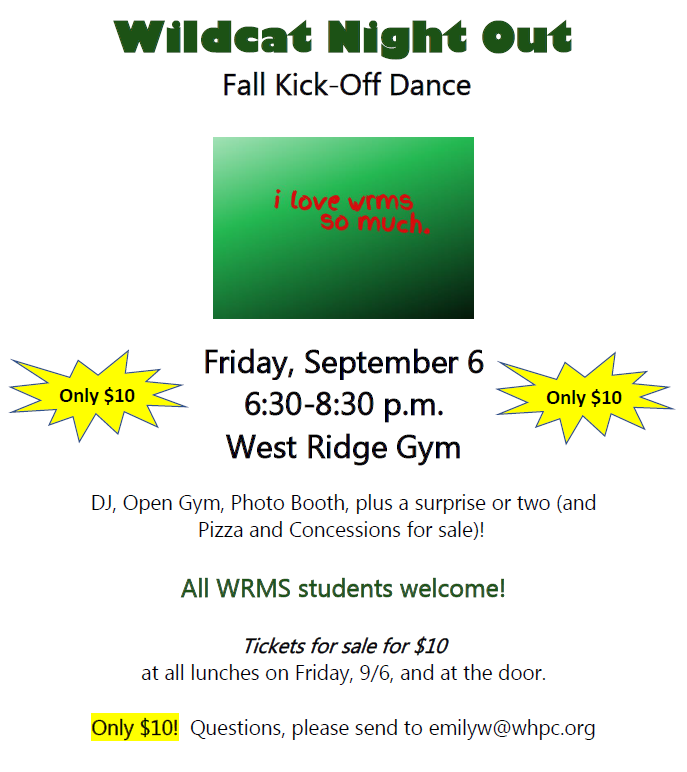 COME AND GET IT!
Did you miss out on getting your Wildcat Wear at Wildcat Warm Up?
Now is your chance to stock up at Friday's School Dance.
Stop by between 6:30 p.m. - 8:30 p.m.
DON'T MISS OUT!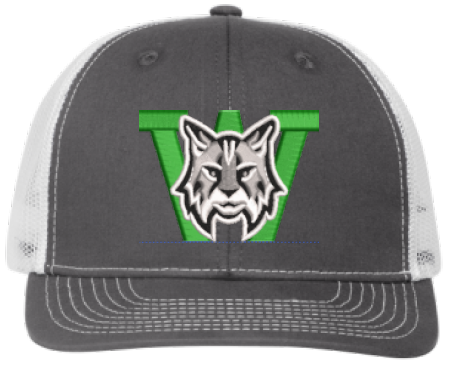 *** NO HASSLE FUNDRAISER ***
Join Youth Entrepreneurship Society (YES)
Does your Wildcat have a great business idea? Is your student already running their own business? Or maybe they want to learn more about entrepreneurship?
We are super excited to invite WRMS budding entrepreneurs to join the Youth Entrepreneurship Society (YES)! Open to 5th-8th graders, YES will guide students through the most updated curriculum and practical applications over 10 weeks. Your student will learn a ton, and may even launch a business by the end of the series. Complete this quick form to express interest and stay tuned for details for our first meeting! https://forms.gle/TR7aaYwo9yTP5Yzs9
Contact Kim Allen at kjoyallen@hotmail.com, or Christie Schultz at christieschultz@hotmail.com, for questions or interest in volunteering as a mentor.
As responsible parents, educators and leaders, it is our obligation to try to model and teach healthy relationship skills. Teaching tolerance and encouraging our children to develop good relationships with others who may not share their exact values or beliefs is critical to their development and success. One way to help our children is to "seize teachable moments" when reading a book or watching TV...
Want to get involved on a district-level committee? Consider applying for the Bond Oversight Committee! The purpose of the BOC is to monitor the progress of bond projects authorized by Eanes ISD voters earlier this year. Applications must be filled out online by midnight on September 30, 2019.