MESSAGE FROM PRINCIPAL DIANNE CARTER

Hello, WRMS Families!!!
I hope you all enjoyed your three day weekend AND have had a great slightly shorter week so far. It has been another great week to be a Wildcat! One of my moments of joy that stands out the most was watching our 7th grade science kids as they were dissecting perch one day this week! Yes...it was a little stinky, but it was interesting to see the different ways that different groups went about it. Some were so careful...and some were just digging in! All were very engaged in learning about the different parts of the fish. Another little moment was simply walking down the hall listening to one of our 6th graders tell another teacher about a story they had written in ELA. She was very excited and proud to talk about it - so refreshing. Last but not least, Ms. Catalano and I went to BCE this morning to talk to our incoming 6th grade parents for the 2019-20 school year...so exciting!!! The trip into next year has started!

Now for a few information items:
Another

Robotics

team was rockin' last weekend! "The Moonwalkers" finished 2nd in their tournament and will get to compete for the Central Texas Regional Championship!
Science Fair

- Tomorrow (1/25) at 4:15 we will have a screening of Science Fair in the cafeteria. Come check it out! Click this link for more information.
Live Streaming Events!

One of our students has decided that it would be cool if WRMS events could be live streamed so that we can check them out even if we are not here, and he is making it happen! You can access his YouTube channel at THIS LINK. He is live streaming most Band, Choir, and Orchestra Concerts. He is also live streaming some Sports activities (at WRMS) and maybe some other activities like robotics competitions. Check out the 7th grade boys' basketball game on 1/31!
Just in case you haven't realized it, February is right around the corner.  That means that everyone will be working on making some choices for next year!  Our 8th graders will work with HS counselors, our current 6th and 7th graders will work with our counselors, and we have several things planned for our incoming 6th graders.  If your Wildcat is in the 6th or 7th grade, mark your calendar for February 12th. That will be our information meeting for you guys. More details next week!

Get some rest this weekend, and…
Enjoy!

Dianne Carter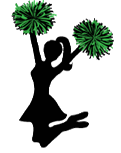 There will be a mandatory informational Cheer Parent meeting for all new or returning cheerleaders for next school year on February 28th at 6 PM in the WRMS Library. This meeting is for PARENTS ONLY.  Please contact Gina Morreale (Gmorreale@eanesisd.net) if you have any questions!
***CONGRATULATIONS***
For the third consecutive year, a Wildcat was picked as the winner of the Patriot's Pen writing contest that is hosted by VFW 4443. Congratulations are due to Anirudh Subramanian as his outstanding entry was the winning essay. Way to go Ani!
Our School Store has been a HUGE success! However, we are in need of parent volunteers. Each shift is only one hour so, please consider signing up. Let's not let down our Wildcats!
Log in to your Wildcat Booster Club account to sign up today.
Your help is greatly appreciated!
TEACHER APPRECIATION LUNCHEON - WEDNESDAY 1/30/19
Our Teacher Appreciation Committee will be hosting a Chili Cook-Off for this month's staff lunch. We need a lot of volunteers to showcase their best chili recipes as well as help with deserts, drinks, etc. Please click THIS LINK to sign up!
As always, we couldn't do it without the volunteers. Thank you!
6TH GRADE MEDIEVAL FEST - FRIDAY 2/22/19
Here Ye, Here Ye. Medieval Fest will be upon us before you know it. Please make sure that your 6th Grader is ready by confirming that you have paid your $10 Medieval Fest Fee. This event is part of the Medieval History study unit and participation is mandatory. Students and volunteers are HIGHLY ENCOURAGED to dress up in period costumes. Click THIS LINK to visit the Wildcat Club's Medieval Fest Event Page to get some costume ideas. Volunteer sign up coming soon!
MARK YOUR CALENDARS
Friday, 1/25/19, 9am, WRMS Cafeteria
Wildcat Club Meeting, STAR Students Awards
 Don't want to miss a thing this year at WRMS? Join the Wildcat Club on Facebook!
https://www.facebook.com/groups/wildcatclub
It's a GREAT Day to Be a Wildcat!
Karen Martin and Terri Ganem-Budiselich
WRMS Wildcat Club Co-Presidents
So many of our friends and partners are finalists for the Westlake Chamber of Commerce Westies, including Westlake High School students in the Young Citizen of the Year category, WHS teachers Ed Snouffer and Jocelyn Wright Bixler and Forest Trail Elementary's Jane Lewis up for Educator of the Year, as well as #EanesSupt Dr. Tom Leonard for Citizen of the Year. Vote by 2/1 at www.westlakechamber.com!